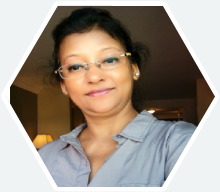 Veena Ranjan
Business Head Risekids
Veena Ranjan has accumulated a wealth of experience in the field of education throughout the course of her career, which has spanned more than three decades. She collaborates with prestigious academic institutes in India and beyond. Her expertise in teaching is invaluable. Furthermore, she has been offering training and coaching to teachers on matters ranging from pedagogical strategy to assessment. As the Business Head of the Risekids Pre-schools, Veena Ranjan is in charge of guiding the Rise Kids Team toward a vision of education that fits the 21st century and making sure that vision is carried out efficiently.
Shiuli Ghosal
Cluster Head Risekids
Shiuli Ghosal has an experience of over 26 years in academic and education management. At Risekids, she plays a pivotal role of heading academic delivery and holds the strategic position of Cluster Head. Since its inception, Risekids, as a reputed name in pre schools segment, has seen tremendous growth and acceptance under her active leadership and supervision.
Well versed with modern pedagogy and educational practices and offering years of achievement and experience in developing child centric environment, geared towards maximizing learning experiences.